Patient and Family Engagement

Engaging Patients in Improving the Healthcare Experience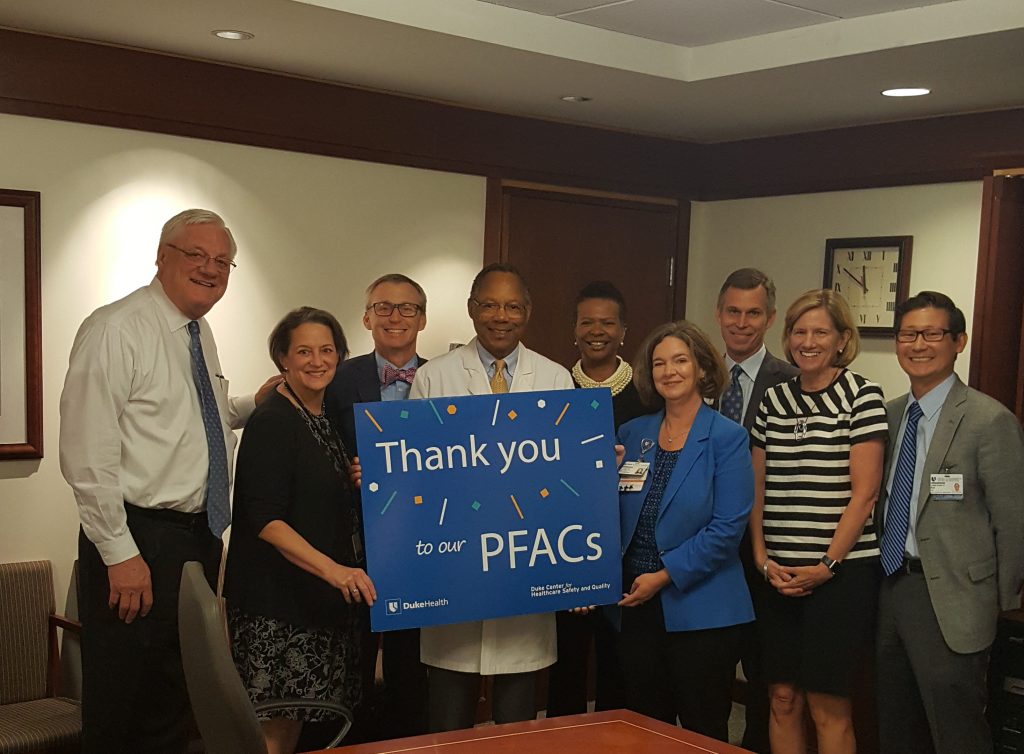 Patient and Family Advisors are volunteers at Duke University Health System who provide the patient and family (consumer) perspective on patient care initiatives, projects, programs, and facilities that impact the patient and family experience at Duke University Health System.
Key responsibilities include, but are not limited to:
attending regular patient/family advisory council meetings
participating in topic-specific focus consumer groups
reviewing patient and family educational and marketing materials
providing feedback on building design and improvements
advising on new way-finding technology
participating on committees to provide the consumer voice
performing similar activities as needed/directed
Patient/Family Advisors' input has led to improved co-designed processes and procedures, strong engagement of patients and families, and overall, a better patient and family health care experience. Opportunities are available at Duke University Hospital, Duke Regional Hospital, Duke Raleigh Hospital, as well as Duke Primary Clinics and Specialty Services.
Patient and Family Engagement (PFE) in the early stages of project design leads to long-term benefits including:
Better health outcomes for patients

Reduced errors and adverse events

Increased patient loyalty

Applicants can expect an interview with their chosen council(s) and onboarding process
Monthly time commitment per council is 1-3 hours
See a list of Patient Family Advisory Councils
Learn about some of our many accomplishments
Duke Health shows its appreciation for patient and family volunteers
Highlights from Inside Duke Health
Hear from Patient & Family advisor, Steve Hodges, on Voices of Duke Health podcast as he shares his experiences with care in "A Whole Person."
Patient & Family Advisor, Suzanne Mayers, shares her excitement for Duke's new Behavioral Health Center: "Duke's new mental health center in Durham aims to be 'more conducive to feeling happy'" and is featured in this video.
Jamonica Hill went from being the parent of a patient, to a patient herself and then joined the Duke Raleigh Hospital Patient and Family Advisory Council to advocate for patients and their family members. Read more.
Contact: hsq@duke.edu